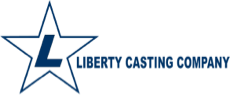 Large Gray & Ductile Iron Castings
At Liberty Casting, we create gray and ductile iron castings for use across a variety of industries.
Casting Sizes & Capabilities
Our foundry's low- to medium-volume no-bake (air-set) molding lines are operated at our Liberty Casting facility. With a daily melt capacity of 90 tons a day, we can produce complex shapes and sizes of castings up to 12,000 pounds.
Materials
Gray, Ductile & Alloyed Irons
SAE-ASTM Specs
DIN Specs
Core Room Equipment
4 Mixers, Various Sizes
Specialty Sands and Binders
Molding Capabilities
No Bake/Air Set
3 Remote Control 2,000 Lb. Articulating PLC Controlled Mixers
Molding Methods
Flask line up to 10' x 12'
2 Flaskless mold lines up to 7' x 9' with compaction tables
Up to 14,000 Lbs. Flaskless Mold Handlers
One of the largest Roll & Draw Machines in the USA
Melt Capabilities
3 Coreless Induction Furnaces
Medium Frequency
5.5 Metric Tons
3500 KW
Grinding & Finishing
50 Manual Grinding Stations
7 Swing Grinding Stations
4 Cutoff Saws
6 Tumble Blasts
3 Table Blasts
2 Paint Booths
6 Snag Booths
1 Walk in Hand Blast
Paint
We offer painting services for our iron casting projects to the specifications of the customer regarding prime and finish.
Pattern Shop
On-Site Pattern Shop
New Tooling
Tooling Maintenance
Tooling Rigging & Repair
Solid Works Software
Start Your Next Project With Us
Get a clearer picture of our quality-focused practices and equipment by, contacting us at Liberty Casting.
Contact Us